My Prosperity wealth portal, goal tracking and quarterly coaching program
Numerous studies have shown the positive impacts that money tracking tools have on wealth and wellbeing.
Personal

Wealth

Redefined
My Prosperity empowers people to make the most of their finances.
​
Powered by live data feeds, our wealth portal offers everything from cashflow to budgeting, property, tax, and estate planning. Clients can manage their entire financial world in one place.
​
Budget on the go with the app
​
Set goals and budgets, then track transactions. Every spend is automatically categorised so you know exactly where your money is going.
​
Adjust categories to fit your lifestyle and check in regularly with monthly reports. Whatever your ambitions, we'll help you get there.
Stay on top of every dollar spent
​
Thanks to live data feeds from prominent financial institutions, your details are always up to date.
​
Get a real-time, comprehensive snapshot of your entire financial world, with regular insights to track how things are evolving.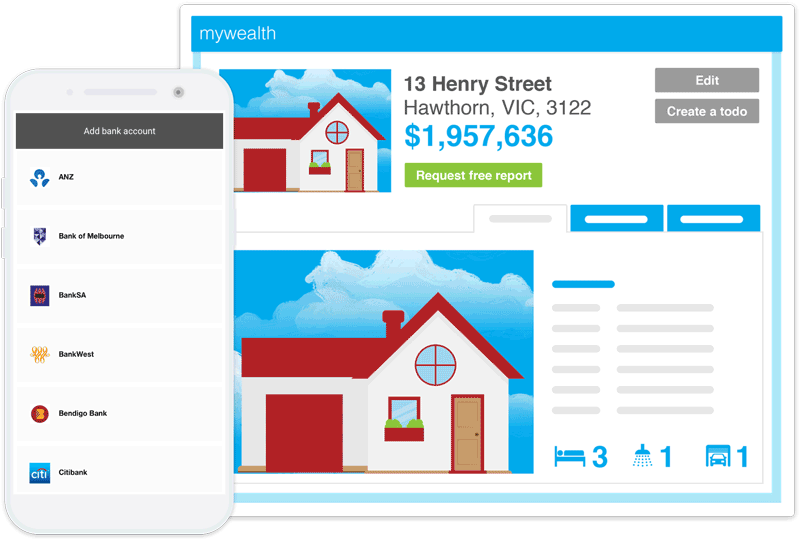 Get your life organised
​
Store all your important documents in the cloud, including wills, insurances, receipts, and rental statements.
​
Don't have a will? Generate a legally binding will, drafted by a leading estate planning law firm, and automatically populate it with your portal data.
So Many Features

You'll Wonder How You Ever Managed Before
Everything in one place
All of your assets and liabilities are conveniently in one place so you can see everything you need at once. Link all your accounts & more.
All the latest data
partners with Australia's leading data providers to ensure that your information is always up to date.
Know your vehicle
Receive free valuations & performance ratings on your vehicle.
Property down pat
Live data feeds track your property & suburb's performance.
Build your A-team
Give guest access to your accountant, property manager or even your lawyer & select what they can view / control.
Time to buy property?
Discover how much equity you have, find out what you can buy right now and track your progress towards living in your next home!
Free wealth check
Get a summary of everything you own and owe. See your future wealth projections, review your financial priorities and receive a personalised action plan.
Manage your property
Send a request to your property manager to integrate your property & receive free benefits like property transactions, documents & receipts uploaded online.
Auto categorisation
Your transactions are automatically categorised. Personalise & manage your transactions to reflect your life by tagging and filtering transactions.
Wealth snapshots
Snapshots displays your net worth each calender month. It charts your wealth so you can clearly see how your wealth is tracking and keeps you up to date automatically each month.
Budgets become a breeze
Say goodbye to spreadsheets. Instant budgets are created around your spending. You're in control as you have the ability to set limits on categories.
No more paper trails
Get super organised by uploading important documents (eg receipts,wills,contracts etc) so you'll never misplace them again. You can also view & manage all your insurance too.
Tax time? Piece of cake
With the ability to tag & filter transactions as tax items, upload receipts & documents or allow your accountant to access your account to do it all for you.
Stay in control
Set & receive notifications, goals & use the calculator to stay on track and achieve your targets quicker. Your savings goals couldn't get any easier.
Property down pat
Live data feeds track your property & suburb's performance.
All devices, all the time
Whether you're on your desktop, tablet or smart phone, you'll have access whenever you need it, 24/7.
​
Work With us

How Ever

You Like
Start your FREE trial
Do you prefer to dive right in. Learn how My Prosperity could benefit with a free lite version of our wealth portal.
Book a FREE demonstration
Want to know the next step? Book a confidential and free 1 on 1 appointment with one of our expert lenders.
We're Obsessed with Delivering
WOW

Every Time
Hundreds of Australians speak to Parker Lane every month about ways to save money.
Seamless & Excellent Service
I needed a Green Loan for Solar and Francois was recommended by my best mate as the "go to man"
Francois did not let me down.
Great service!
Francois definitely needs a raise or at least a six pack ever Friday arvo!
Well done mate!
Parker Lane were recommended to me by my Solar installer as a provider of Green Loans. I dealt with Trisna who I found to be exceptionally efficient and pleasant to deal with. She took the time to understand what I was after and ensured that the finance package perfectly matched what I was after. I recommend Trisna and would have no hesitation in calling on her services again.
Friendly and Professional
Trisna was an absolute gem. Her Polite and friendly manner put my nerves at ease. She make the whole process easy to deal with. Thank goodness I have found her. I will be using Parker Lane again based on how I have been treated and will not hesitate to suggest them to my friends.
Please reload